Here's a fun fact, our very own, The Pink City of India has not just pink, but an infinite splash of colors to offer. And you'll be enchanted with the mesmerizing blues of Jaipur in The Blue Pottery.

The ancient and magnificent city, Jaipur, holds its culture and traditional essence very dearly. And is a paradise for imaginators and artists. An architecturally rich and beautiful city that can take you back to the royal era. Here you'll find numerous treasures and inspiration for a dream interior at every step. And you know what you've signed up for from the title, so we are going to unravel all the secrets of this beauty.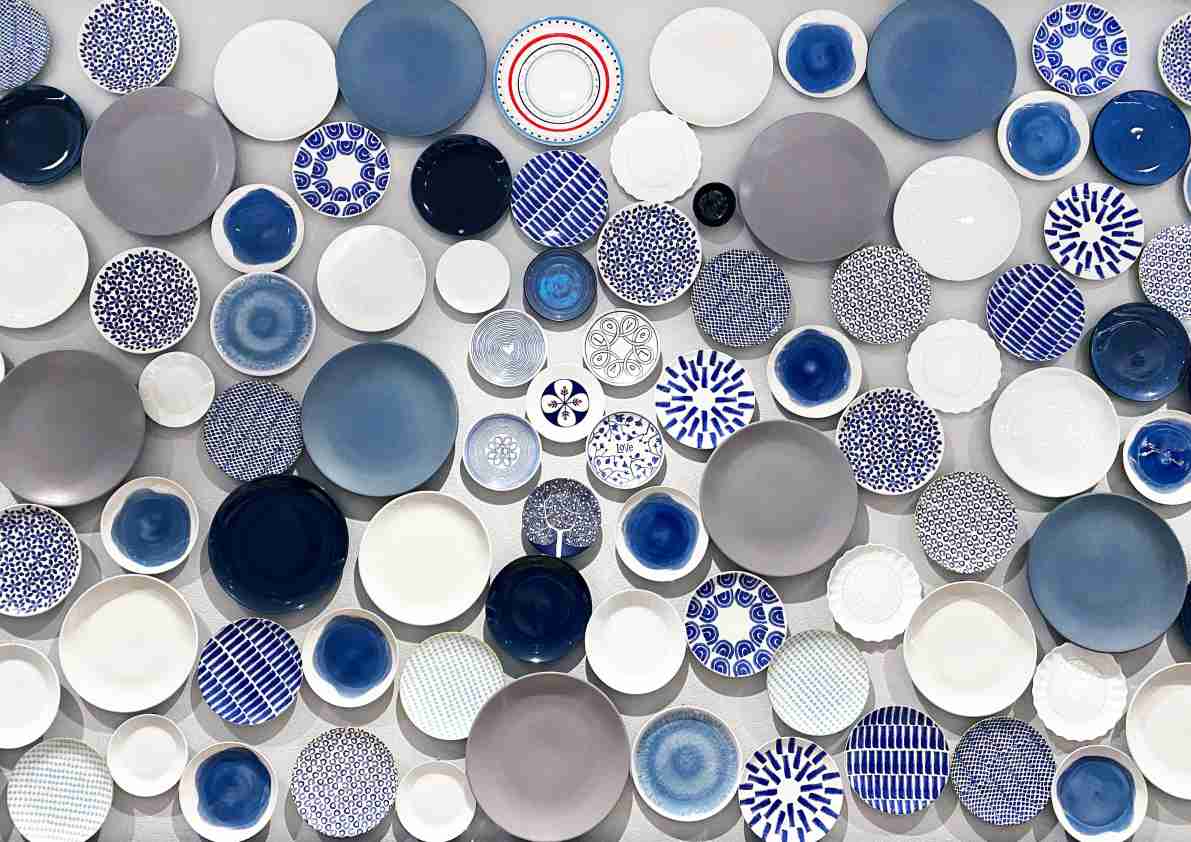 Where it all started?
There's no doubt that India's diversity is astonishingly surprising and true. We've welcomed all the cultures and molded them into our traditions. And one such epitome is Jaipur's Blue Pottery. Why? you'll ask, well because its origin lies in Mongolia, whose artisans combined the Chinese glazing technique and decorated it with Persian arts.
So how it traveled to India?

Some evidence indicates that it was introduced to Jaipur in the wake of the 19th century. And here's the tale about it. Maharaja Sawai Ram Singh II (1835-180), the king of Jaipur discovered the methods of the blue pottery when he attended a kite flying competition. There he met two brother potters who implemented the style of blue-green glass to coat the strings and used the same on their pots. Maharaja Sawai Ram Singh was fascinated and welcomed the craft and even sent off the local artisans for training. The influence and works can be seen in the Rambagh Palace, the fountains embellished with blue tiles.
It was introduced by the Turkish invaders in the 14th century. These techniques made their debut in the form of decorative tiles for mosques and tombs. We can even witness that some monuments and constructions in India, are adorned with this style by the Mughals. The technique found its way to inspire Indian potters, and its journey in India began. From influencing artisans in Delhi, it landed in Jaipur in the 17th century.
Sadly, there was a significant downfall in 1950, and the practice was almost eliminated as the veterans in this art were not continuing their legacy and keeping the techniques to themselves. Thanks to the great efforts of Kripal Singh Shekhawat along with Rajmata Gayatri Devi and Kamaladevi Chattopadhyay, a social reformer, the art was revived. Many potters were intrigued by the blue pottery and shifted from red clay to this. And at present, the craft is an essential part of Jaipur. It involves stories of Rajas and Ranis and many tales that are gracing the art.
Process and Patience
People say, trust the process and the blue pottery clearly justifies.
The Dough Stage
It begins with the clay which is different from the usual, as it comprises ground quartz, green glass, fuller's earth (Multani mitti), borax, and katira gum, all mixed well as it was passed by the previous generations. Then the shaping is done, nicely kneaded, then flattened and pressed into an open mold and gently creating a masterpiece. After getting the desired shape the piece is transferred down from the mold and is left with the ash for 1-2 days for drying.
The Ornament
The pretty structures are then hand-painted with oxide colors obtained from Cobalt oxide for blue and Copper oxide for green plus some sugar or salt. The art cannot be modified afterward hence this intricate artwork needs utter care.
Glaze and Bake
Sounds like a process for baking donuts but we are still talking about blue pottery, which after the painting, is dipped into a clear glaze and then baked at around 800°C-900°C for hours in a kiln.
Bustling Craftsmen
This art got revived, with the huge help and labor of the amazing craftsmen. All the sweat and time was worth it when we look at the final product sparkled with their love and passion for this craft. A lot of groups, like around 30 artisans in and around Jaipur are dedicated to this work and continuing this legacy.
Design and Inspiration
The blue pottery is incredibly merging non-conventional ideas nowadays, like the use of white, brown, and yellow colors. And the designs include floral patterns and motifs, also birds and animals. You can also find out some extremely talented works that depict the Mughal era paintings, and illustrations of folk tales.
Not just Looks but Merits
You might've assumed that it's just a pretty craft that can add charm to your tableware, or a corner of one's house. Well, yes, it is a gorgeous example of great craftsmanship, but there's remarkable merit of blue pottery which is that it doesn't develop any cracks. Also, it's impervious and very hygienic. Which makes it perfect for daily use.
On the plus, it's the very reason of a good living to many potters and artisans in Jaipur as well as outside it in Rajasthan. Making it emblematic of a mix of cultures and a vital souvenir attraction for tourists who visits Rajasthan as it gained a Geographical Indications tag. No doubt it's a must-buy product, representing our heritage and the geniuses behind its making, which showcases beauty and functionality.
All images belong to their respective owners.